Skip to Content
What Is Swing Dancing?
The roots of swing dancing can be traced back to the American Jazz Era, which began in the 1920s. Swing dancing encompasses a wide variety of unique partner dances, including the Lindy Hop, East Coast Swing, West Coast Swing, Jitterbug, Jive, Boogie-Woogie, Carolina Shag, and others. When you think about swing dancing, think of a highly-social dance with lifts, spins, and flips – while not always incorporated into these fun and fast-paced partner dances, they are often included. As a fast-paced, quick dance style, swing dance is primarily performed in a particular spot instead of moving across an entire dance floor like ballroom dancing.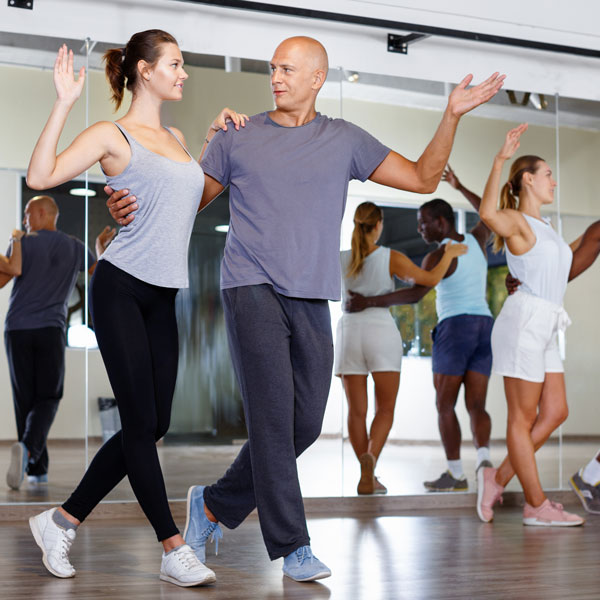 Benefits of Swing Dancing
Swing dancing provides people of all ages with a wide range of benefits. In addition to being an immensely social activity, swing dance also is good for the body and brain. If you're looking for a fun, active way to meet and interact with new people, swing dancing is the perfect option. With swing dancing, you can improve your fitness, coordination, rhythm, balance, spatial awareness, and so much more. Additionally, swing dancing will endorphins in your brain, elevating your mood and happiness. Challenge yourself and try something new – swing dancing!
Why Choose Swing Dancing?
Arthur Murray Dance Centers Ocala offers state-of-the-art swing dancing classes to Ocala, FL and the surrounding areas. Our professional instructors teach state-of-the-art lessons and give you a fun and interesting way to spend your free time. We can wait to help you lace up your shoes and teach you how to swing dance today!
New Student Offer – First Dance Lesson Free
Get Your First Lesson for Free!
Discover the thrill of ballroom dancing for yourself! Become the dancer you always wanted to be.